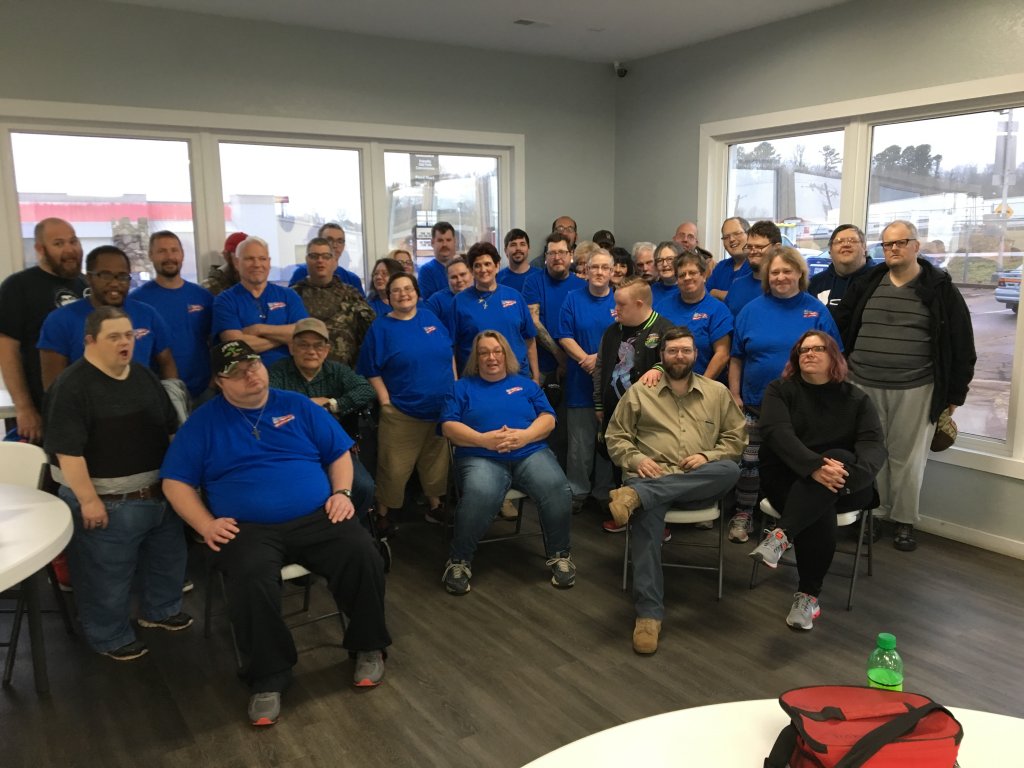 Madison County Workshop was originally founded as the 3-R Center but was changed to the Madison County Sheltered Workshop. Madison County Workshop is a 501c3 comapny that is dedicated to providing meaningful employment opportunities to individuals with mental and physical disabilities through a variety of means.
One such way we provide employment is by operating a Thrift Store. Our employees perform all of the daily tasks of recieving, sorting, cleaning, pricing, and stocking items for the store. Our items are recieved from the local community through donations. This allows us to give them employment and also give back to the community by providing a place where people can purchase everyday items at a low cost.

We also perform contract work Yemm & Hart. This contract have been established with the company for several years. They are a great company to work with. This contract allows us the opportunity to grind down sheets of High Density Polyethelene (HDPE) into flakes, which are then sent to be melted and formed into a variety of items for other manufacturers. This is a great way for us to recycle HDPE into other products.
We also offer the front end of our building as a Venue for customers to rent during our off hours. This venue provides additional income to the Workshop so that we can continue to serve the community in a variety of ways. This spacious area offers a full bathroom and full kitchen for all of your rental needs. You can use it to host an evening class, informative lecture, family gathering, or host a dinner. The options are endless and the rates are great!
Madison County Workshop is governed by a Board of Directors. The current Board members are:
Chris Reagan- President
Richard Polete- Treasurer
Kevin Griffon
Teena Wagner-Secretary
Joyce Cureton
Each Board member brings a new dynamic to the board which creates an atmosphere for good comunication and development. Each member brings their own strengths to the board that only helps the company become stronger for the employees.
Director
Our current Director is Scott Bates. Scott has been with the company since November of 2018. He started off as a floor supervisor and then quickly moved to the Office Manager. He was offered the Director position when it came available in April of 2020.
Scott is a Veteran with knowledge in leading nonprofit companies. He has performed a variety of board member functions both currently and in the past.
Office Assistant
We are blessed to have our Office Assistant, Claudia Smith. Claudia has over 25 years of experience working with people with disabilities and Workshops. Claudia has been a part of the staff since 2020.
​​​​​​​Our Production Supervisor is Stephany Graham. She oversees all of our contracts and production employees. She sets the daily goals for the employees. She helps them keep on track and complete the tasks. She keeps them smiling.
Thrift Store Supervisor
Thrift Store Supervisor is responsible for keeping the Thrift Store operational. They rotate items, make sure items are stocked, and supervise the front end workers.